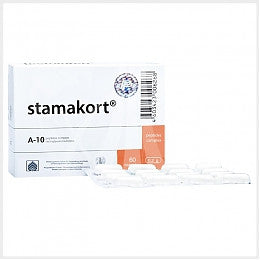 Stamakort (Stomach)
Stamakort is a dietary supplement with natural stomach peptides. It normalizes the function of the gastric mucosa by reducing its peptide deficiency and restoring protein synthesis inside its cells.

Stomach disorders are a significant source of suffering for many people. They often occur when the stomach lining is damaged by irregular food intake, imbalanced diet, stress, and infections. Heartburn, upper abdominal pain, and indigestion affect around 25 percent of people. With age, the stomach also tends to produce less gastric acid and enzymes, which makes digestion much more difficult.

Stamakort is recommended for everyone whose stomach may be compromised, especially people with gastritis, Helicobacter pylori, peptic ulcers, polyps, and various gastrointestinal, pancreatic, and hepatic diseases.

Stamakort can be easily combined with other supplements and medicines and should be used in addition to conventional medical treatments.

Ingredients: gastric mucosa peptides, microcrystalline cellulose, gelatin, lactose, calcium stearate.

Directions: 1–2 capsules two to three times daily, 30 minutes before meals. Duration: 1 month. Repeat every 3–6 months.
---
---
We Also Recommend